FTSE rises in early trading
The FTSE 100 is up 4o points or 0.6% in early trading, at 7,270.
Markets elsewhere in Europe are also higher, with the exception of Italy's FTSE MIB. There are fresh fears surrounding Italy's Banca Monte dei Paschi di Siena, after losses widened in the fourth quarter.
The scores so far:
Germany's DAX: +0.5% at 11,698
France's CAC: +0.3% at 4,842
Italy's FTSE MIB: -0.3% at 18,892
Spain's IBEX: +0.2% at 9,455
Europe's STOXX 600: +0.3% at 368
China's exports jump in January
Strong trade data from China is also giving investors that Friday feeling.
Exports rose 7.9% in January, easily beating analysts' expectations and following a 6.1% drop in January.
Imports rose by 16.7%, also beating forecasts.
It pushed China's trade surplus to $51.35bn for the month, the General Administration of Customs said, from $40.71bn in December. China's swelling trade surplus is unlikely to go unnoticed at the White House, where Trump has threatened to take a new protectionist stance to trade.
China's trade surplus with the US was $21.37bn in January, slightly lower than the $21.73bn in December.
Economists cautioned that trends in January and February can be distorted by the long Chinese new year celebrations.
Julian Evans-Pritchard, China economist at Capital Economics, says:



These figures need to be taken with a pinch of salt as annual shifts in the timing of Chinese New Year make year-on-year trade growth highly volatile at the start of each year.

It's likely that much of the pick-up last month was seasonal. Admittedly, the holiday took place earlier this year than last, meaning that more of the disruptions to trade will have fallen in January. But it appears that this was more than offset by the fact that, unlike last year, all of the pre-holiday rush to import goods and meet exports orders fell in January too.

Stepping back, the big picture is that Chinese trade values have been picking up in recent months thanks to a revival in global manufacturing, the continued strength of China's domestic economy and the rebound in global commodity prices.

We expect this improvement to be sustained in the short-run, even as Chinese New Year distortions mean that headline trade growth is likely to fall back sharply in February.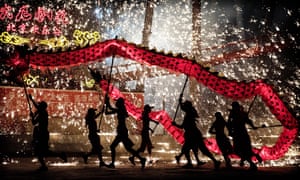 The agenda: Markets boosted by Trump's tax pledge; pressure builds in Greece
Good morning, and welcome to our rolling coverage of the world economy, the financial markets, the eurozone and business.
Asian markets have made strong gains following new record highs on Wall Street and a stronger dollar. The reason for this renewed investor optimism is the promise of more stimulus in the US.
Specifically, President Trump said he would be announcing "something phenomenal in terms of tax" over "the next two or three weeks."
Vague, but enough to boost investors hooked on stimulus, as CMC Markets' Michael Hewson explains:



The move to new record highs in equity markets and surge in the US dollar are symptomatic of a market craving a new stimulus. The risk is that as with most oases they turn out to be an illusion, and given the new President's propensity for melodrama the risk is that this could well be no different.

It is hard to imagine that he will be able to promise anything tangible within a two to three week window, however whatever the realities investors appear happy to take him at his word, as US markets closed well above their previous peaks, while the US dollar index looks set to post its first positive week this year.
Investors might also be comforted by the more conciliatory note struck by the President with China, following his first conversation with President Xi Jinping since taking office.
In Asia, the Nikkei was up 2.5%, the Hang Seng up 0.4% and the Topix up 2.2% and the Shanghai Composite up 0.4%.
European markets are also expected to open higher:
We will also bring you all the latest developments from Greece, where the government is hoping to stave off a fresh debt crisis.
Updated