This article is updated continuously as new offerings are announced.
If you're traveling abroad and need a taste of home, take note: from McDonald's to KFC to Dunkin' Donuts, fast food eateries from across the globe take a slightly different approach to their greasy cuisines.
Check out these 17 fast food items that will either make your mouth water and/or your jaw drop.
Related: 7 Fast Food Restaurants That Feature Secret Menus
"Japanese Style" French Fries, McDonalds, Japan
Fast food companies around the world cater to the tastes of local cultures. In Japan, McDonald's will be rolling out its new "Japanese Style French Fries Candied Sweet Potato Flavor" next week.
The new fries feature a special sweet black sesame sauce drizzled on top that apparently tastes like sweet potato. This type of "candied potato" flavor is popular in Japan and referred to as "university potatoes" because the dish got its rise among college students in the early 1900s.
If you're in Japan and want to check out the new dish, you better hurry — these fries will only be available for a limited time.
Customized Breakfast, McDonald's, India
Image credit: Holger Leue | Getty Images
The fast food giant has released a new customized breakfast menu in locations throughout India that incorporates traditional Indian tastes.
The new menu, which will begin rolling out in January of 2017 will feature items and delicacies such as the "masala dosa burger" (a pancake stuffed with vegetable and potato filling), "anda bhurji" (scrambled eggs cooked in masala) and "molaga podi" (a spice powder with sesame seeds and lentils).
Potato Rosti Burger, McDonald's, Canada
Image credit: McDonald's Canada
In the Fall of 2016, our neighbor to the north announced a burger with a hash brown patty, bacon, cheddar cheese and a cheese sauce, served with waffle cut fries and an ice cream sundae with caramel turtles on top.
Nutella "burger," McDonald's, Italy
In Italy, McDonald's announced a new treat in Fall 2016 called the "Sweety con Nutella." It's two sweet rolls with a helping of the chocolate hazelnut spread, which actually originates from Italy.
Cheese Katsu Burger, McDonald's, Japan
This Cheese Katsu Burger from McDonald's was released for a limited time in Fall 2016. It featured traditional pork katsu — a breaded and deep fried patty — nested between two sesame buns.
But that's not all — what would this McDonald's item be without an American twist? We're talking cheese, of course. The pork katsu cutlet is fried and oozing with cheese on the inside and also topped with cabbage and mayo.
Zinger Double Down, KFC, Korea
Forget about your typical Double Down, KFC in Korea has taken things to another level. The Zinger Double Down is a burger topped with bacon and cheese that sits between two fried chicken fillets drenched in barbecue and white pepper sauce.
If that won't make your heart stop — we're not sure what will.
Lobster Surf & Turf Burger, Wendy's, Japan
Image credit: Kazuhiro Nogi | Getty Images
Wendy's in Japan takes things up a notch by turning your fast food experience into fine dining.
For a limited time, Wendy's Japan offered luxurious items such as a Lobster Surf & Turf Burger and the Premium Caviar & Lobster Sandwich.
In the past, the eatery's menu also offered a Foie Gras Burger smothered in goose liver and truffles sauce. The item was only available for a year and later removed from the menu in 2012.
Gracoro Burger, McDonald's, Japan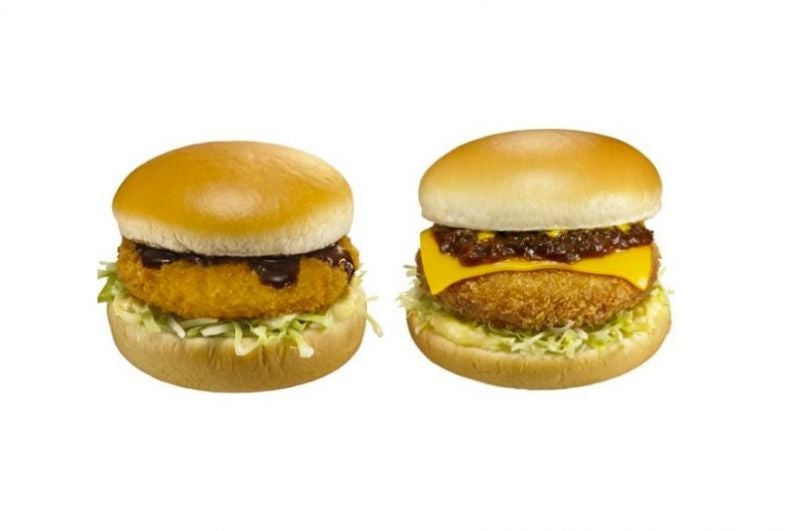 Image credit: McDonald's Japan
Like Wendy's, McDonald's also likes to test funky products on the Japanese market. Take the Gracoro Burger, for instance. It features a patty filled with macaroni, shrimp and white sauce with a breadcrumb crust. The patty is topped with cheese and "demi-glace" sauce and sandwiched between buns.
Chicken Tikka Masala, Taco Bell, India
Image credit: Taco Bell India
In India, many customers don't go to Taco Bell for a Mexican-style Burrito. Instead, Taco Bell locations offer takes on the country's traditional items, such as a Chicken Tikka Masala Burrito or rice bowls adorned with a variety of spices.
Kimchi Quesadilla, Taco Bell, South Korea
Since its release in the summer of 2016, this mashup has been a surprising hit at Taco Bells in Korea, making up some 10 percent of the restaurant's sales in the country.
The Kimchi Quesadilla combines the traditional Korean dish with the Bell's chicken and cheese Quesadilla.
Deep Fried Salmon, KFC, Japan
Image credit: KFC Japan
Move over fried chicken — at KFC, Deep Fried Salmon was a hot commodity. The name says it all: the dish is simple fried salmon with your favorite KFC dipping sauce.
Pork and Seaweed Donut, Dunkin' Donuts, China
Image credit: Dunkin' Donuts China
Forget about sprinkles and chocolate — in China, Dunkin' Donuts takes a saltier approach: the Pork and Seaweed Donut is exactly what it sounds like.
Flying Fish Roe Salmon Cream Cheese Pizza, Pizza Hut, Hong Kong
Image credit: Pizza Hut Hong Kong
In America, we think Pizza Hut's cheese-filled crusts are bizarre — but maybe this item will make us think twice.
In Hong Kong, Pizza Hut's limited-edition Flying Fish Roe Salmon Cream Cheese Pizza is out-of-this-world whacky. The 2014 limited-time item featured crust filled with salmon flavored cream cheese and flying fish roe (fish eggs).
The pie was available in two flavors: Crayfish Seafood Deluxe (crayfish, scallops, shrimp, clams, cherry tomatoes, peppers, red onions and thousand island sauce) and Sausage, Pepperoni & Pomelo.
Double Down Dog, KFC, Philippines
Image credit: KFC Philippines
In January of 2015, KFC lovers hurried to try KFC's craziest concoction. With only 50 served at participating stores in the Philippines, patrons clamored to get their hands on the Double Down Dog — a hot dog wrapped in a fried chicken bun.
Cheeseburger Pizza Crust, Pizza Hut, U.K.
Image credit: Pizza Hut UK
Here's a solution to all you indecisive eaters.
Can't decide between a pizza or a cheeseburger? At Pizza Huts in the U.K, you can order your pizza with a Cheeseburger Pizza Crust. The 2,000-plus calorie dish initially debuted in pizza huts in the Middle East and has since expanded north to the U.K.
Cheetos Crunchwrap Slider, Taco Bell, Canada
Image credit: Taco Bell Canada
Although it has yet to make its way to the American market, Canadian Taco Bells released a Cheetos Crunchwrap Slider for a limited time last March.
A junk foodie's dream, the new item comes in three flavors: Beefy Cheddar, Spicy Chicken and Supreme — all of which are infused with Cheetos, of course.
Green Peas Patty Sub, Subway, India
Image credit: Subway India
To replace meat for the country's large population of vegetarians, Indian Subways offer a variety of alternatives — one of the most popular being the Green Peas Patty sub.
Aloo Patties (made with potatoes), Chatpana Chana Patties (made with chickpeas) and Hara Bhara Patties (made with potatoes and green vegetables) are also among the vegetarian offerings.
Guacamole and Salsa Loaded Fries, McDonald's, Australia
Image credit: McDonald's Australia
Now this one might get your mouth watering. McDonald's famous fries got even better Down Under. With the option to add toppings to "Loaded Fries," customers can enjoy fries topped with cheese and bacon or guacamole and salsa.
Choco Marsh, Taco Bell, Spain
Image credit: Taco Bell Spain
If you have a sweet tooth, Taco Bell in Spain has the perfect thing: the Choco Marsh is a tortilla filled with chocolate and marshmallow.
Hanukkah doughnut Whopper, Burger King, Israel
Burger King kept it kosher and festive in 2016 with its seasonal Hanukkah burger, offered in locations throughout Israel. The Whopper is called the SufganiKing — a spinoff of the Hebrew word "sufganiyah," which is a festive jelly doughnut fried in oil and topped with powdered sugar. However, this item is more savory than sweet. It contains all of the ingredients of a traditional Whopper (except the cheese, of course, because meat and milk can't mix per kosher guidelines) between two halves of fried dough.